The objectives of the program are to:
To produce quality English graduates with a specialization in Linguistics and Literature.
To teach communication skills listening, speaking, reading and writing and Grammar
To broaden socio-humanistic perspective
To instill research skills to build the capacity to research and create knowledge in different files of English studies
To promote professionalism by building analytical, critical thinking, interpretative and leadership skills
To provide a solid foundation for advanced study in the fields of English Literature and Applied Linguistics and ELT
129 Credit Hours
9 Credit Hours of Practicum
12 Semesters Over 4 Years
Reading books improves our memory, and increase insight as well as knowledge. To serve the need of English program students, there is a separate corner in the library where there is ample number of books and journals on different subject areas. Students can use those book for reading and research purposes from 8 am to 8 pm.
Extra Curricular Activities
Physical and recreational facilities
Indoor and outdoor sports.
Students Society .
Students engagement in various festivals and competitions.
English debates on contemporary issues.
The facilities of counseling and guidance are available to students under the leadership of qualified Clinical psychologist.
This service is provided under the Counseling and Guidance Centre of IUBAT.
Provide multidisciplinary professional consultancy to various categories of clients including public and private sectors.
Provide multidisciplinary and market oriented professional training to individual and professional groups of various organizations
Conduct basic and applied research on physical , biological, environmental and agricultural sciences
Invent and promote appropriate technology in agriculture, energy, engineering and various other disciplines
Contribute to HRD and community services in general more…
Alumni and Placement Services
Alumni and graduates assistance regarding career planning and employment.
Assistance in placement to students in their final semester for practicum work in real life organizations
Assistance in placement to graduate students in securing career employment.
To be the most recognized English program in the region by inculcating and enhancing need-based skills that ensure the holistic development of the learners of 21st century and thus to contribute towards the creation of knowledge-based society.
We produce English graduates who are ethically responsible and able to respond creatively in the field of English language, Literature, Applied Linguistics and ELT by fostering lifelong learning, critical thinking, communication skills, interpretative and analytical skills that are highly valued in local, regional and global job markets so that the learners can face the rapidly changing diversities of the 21st century.
The BA in English program is a minimum of 129 credit hours plus such courses as may be prescribed on the basis of individual competency and requires 4 years to complete for a full time student. A semester is of 16 weeks duration, there are three semesters in a year and as such a full time student can complete the degree in 4 years.
Seminars and workshops provide knowledge that are most often not achieved in the classroom environment. Seminars closely focus on a particular topic or theme and offer an opportunity to plunge deeply into a topic. A workshop provides opportunity to learn about a particular subject, most often involves assignments and practical tasks.
Attending workshops helps the teachers in professional development; while students can achieve success in their academic career by applying the skills learned in a workshop.  The BA in English Program regularly organizes seminars and conference and the stakeholders are highly encouraged to participate. Experts, both from IUBAT and other universities, are invited to address a particular topic or area. Such ventures broaden the stakeholders' outlook and enhance understanding of English Literature and Linguistics.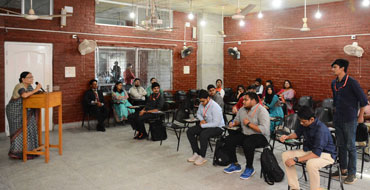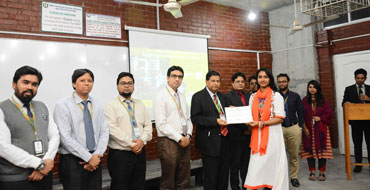 There exist a amiable relationship between students and teachers in the department. We believe that the bonding between teachers and students is our greatest strength and we flourish together as the most vibrant community in the university.  We provide trustworthy and honest services in a friendly manner to build a good relationship with the students and thus we ensure a safe, fair, encouraging, caring and supportive environment.
In such environment, our students grow a sense of belongingness and develop confidence to succeed both in personal and professional life. Platforms like reading circle, grammar club etc. provides opportune to the students to have friendly interaction with the teachers. Teachers value the students and treat them with respect. Such sharing and caring create a positive attitude in the students.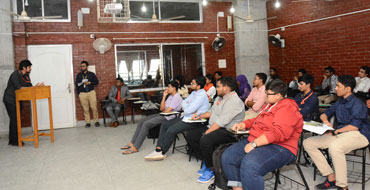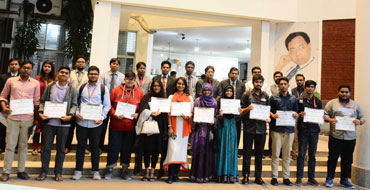 Placement and alumni services
The Placement office of the university provides the students and graduates assistance regarding career planning and employment.  This basically takes two forms viz. assistance in placement to students in their final semester for practicum work in real life organizations and assistance in placement to graduate students in securing career employment.
Student placement takes the form of providing assistance to students in short listed organizations that may be available for practicum work, providing support for placement of practicum and then ensuring smooth attachment of the student in the organization for successful completion of the practicum work.
Assistance in career placement takes various forms of services ranging from on campus interviewing with the employers to resume referral to employers seeking graduates for employment.  Most services are available for current students, but seniors or graduates can also register with this office prior to their graduation for assistance in career placement.
The university offers a course on career planning and guidance in which the students are trained in resume writing and critiquing, job search techniques and interviewing skills.  This course prepares the student to plan and approach career exploration.  Besides, the placement office provides individualized counseling on a limited basis on preparing job applications.
Within the constraints of the tri-semester based education system involving year round academic activities, there are some opportunities for a cultural activities in the university.  Cultural evening is organized every semester as a part of the orientation program for freshmen.  Besides, cultural program is organized on 21st February to observe the Language Martyrs Day.
The convocation and other ceremonies are also followed by cultural performance mostly carried out by the students of the university.  The students have ample opportunities to participate in these cultural activities, convocation, university foundation day celebration and other ceremonies.
The major functions of IAS are: organizing seminars, symposium, conducting help sessions, counseling, preparing and maintaining a database of potential employers, generating latest investigative reports and articles on agricultural field. To develop agro-based community, IAS has organized several informative session on plantation of Oil Palm and many spices; exhibition and agricultural fair, organic farming and sustainable agriculture.