IUBAT English Society (IES)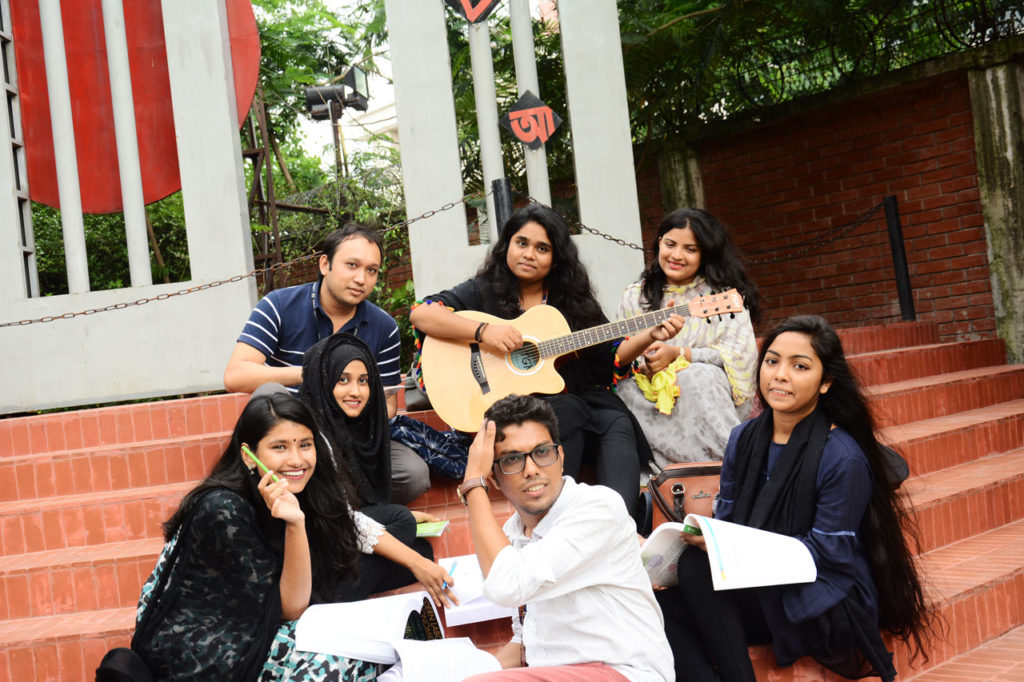 IUBAT English Society (IES) is a platform for the learners to use English, share learning experiences, and knowledge, and demonstrate different skills and attributes in a friendly and unceremonious setting. IUBAT English Society has been developed mainly with the intention of improving the language and literary skills of the students by means of offering special help sessions on different topics, organizing debate competition, drama, poem recitation, movie show, cultural activities, public speaking, publication of creative writing, and so on. It is often told that real learning takes place outside the classroom. IES is such a platform where the learners get required assistance in solving all academic problems in an informal setting. It also plays a vital role in improving learners speaking skill and reducing shyness, fear etc. by providing opportunities to practice. There are four different clubs each having specific roles and working policies and a reading circle that we call "Patha Chakra" to offer various opportunities for the learners.
English Drama Club (EDC): We offer opportunities for those who are interested in Drama at the university. EDC plays in important role in maintaining collaboration with Drama and Theatre societies across the region. It is a society of those people who love to study wide range of literature and other subjects, share a love for drama and believe in its impact on society and personal life. People come here to enjoy drama and enhance better understanding of literature by connecting drama and literary works. The club is lead by a teacher who is responsible for organizing stage performances. Such efforts are entertaining for the audience and provide learning texts by heart to the students. The membership is open to all student of BA in English.
The main objectives of this club are to:
arrange drama show
provide diverse opportunity for students
organize stage performance
direct drama/play
create a friendly environment for knowledge sharing
inform about upcoming events
English Debating Club (EDC): The department aims at holistic development of its graduates by developing the cognitive domains to the highest extent. EDC is a significant tool of cultivating learners' knowledge domains and developing speaking, critical thinking, critical reasoning and presentation skills. It also aims at raising awareness of contemporary issues among the students. EDC is led by a teacher who is also a mentor for the debaters. Only the students of BA in English can be the member of EDC. EDC organizes varieties of debate, especially 'Parliamentary Debate'. Students divided into several groups take part in intra parliamentary debate on each Thursday for improving debating skills, developing ability to put arguments and counter arguments. Our motto is "Debate for Enlightenment".
The main objectives of this club are to:
groom the learners to be skilled debater
organize debate session
motivate the learners to participate in debate competition
improve learners' speaking skill and reasoning ability
English Grammar Club (EGC): English Grammar Club (EGC) is one of the biggest platforms for the students where they can learn how to master English as a Second Language. EGC organizes informal learning sessions for the enthusiastic learners who want to develop accuracy and efficiency in English language. Though the sessions are in some way informal, there are quizzes and worksheets the participants are supposed to solve. The participants share the difficulties they face while using English as a language. There is a mentor who listens to their problems and provides effective solutions. The core objective of this club is to make the learners able to use grammar for creating meaningful sentences both in oral and written form.
English Movie Club (EMC): Films and literature are deeply connected: there exists a boundless relationship between these two. Films based on any literary pieces make the learners capable of visualizing the story, context, human characters, and socio political aspects. Any literary work is a complex and embedded representation of thoughts and ideas relevant to the society and its people. EMC facilitates students' understanding of literary works and make them able to respond to literary pieces through organizing movie shows and open discussion on different movies and their implications. EMC organizes movie show once in a month. It also facilitates learning in different courses where movie show can work as a catalyst in developing learners' ability to understand and interpret literary pieces.
The Reading Circle (Patha Chakra): It is an exciting approach both for the students and teachers to arouse the thirst for self development and instill creative thinking, and research skills in the minds of young and old scholars. It is a platform of enthusiastic learners who have curious minds to know the unknown, and are motivated to explore, create, and share knowledge with others. There are different role players who perform different functions to make the reading circle effective. There is a leader who organizes and facilitates the discussion, preparing general questions and ensuring that everyone is involved and engaged. There is a reader who selects and presents a passage/part of a text book which he or she thinks is well written, challenging, or of particular interest to the audience. In case of discussion, there is a speaker who shares his knowledge on a topic and responds to questions asked by the audience. The passage or the discussion topic is set based on the participants' needs. The most exciting feature of Reading Circle is that it offers knowledge sharing and learning in a very friendly and informal setting. It is designed to remove the fear or shyness of learners who want to improve outside the traditional setting of classroom environment. It holds a meeting whenever needed where every member can share their ideas with the group to open up wider and more detailed discussion.