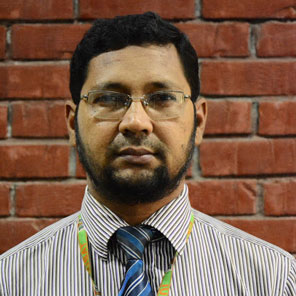 Mohammad Sakar Mahmod
Associate Professor
MA in English (MIU, Dhaka)
BA Hons in English (AAU, Egypt )
Room # 314 Ext # 516
E-mail: msmahmod@iubat.edu
Muhammod Sakar Mahmod is an Associate Professor of the Department of Languages, IUBAT University, Dhaka. M. S. Mahmod was born in Gazipur in 1975. He received Secondary School Certificate (SSC) majoring in Humanities from Dhaka Board in 1990. He studied at Dhaka College and in 1992 received Higher Secondary Certificate (HSC) majoring in Humanities.
He was admitted to Dhaka University in 1992, but before completion of his graduation, in1994 he was awarded Government Scholarship to study at Al-Azhar University, Cairo, Egypt. Due to equivalence problems, he had to complete both Preparatory and Secondary education at Al-Azhar Al-Sharif. He did his BA (4 Years) in English Language and Literature from Al-Azhar University and MA in English from Manarat International University. Currently he is pursuing his PhD at Bangladesh University of Professionals (BUP).
He has professional experience for over 12 years in the field of teaching English. He taught English to students of more than 40 countries studying at Forces Summer School, Cairo. He also taught Arabic at Bangladesh University of Professionals (BUP) in 2013. His activities are focused on visualizing grammar, picturizing composition, familiarizing students with effective speaking and fundamentals of English phonetics. He has also interest in comparative linguistics, especially in phonetics.
He likes to travel, and he has visited half a dozen countries in Asia and Africa to participate in "International work camp, conference, competition and training".