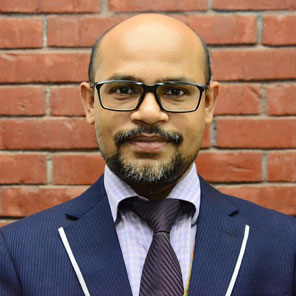 Md Jashim Uddin
Associate Professor
MA (DU), MA (DU)
Room # 313 Ext # 325
E-mail: jashim.uddin@iubat.edu
Md. Jashim Uddin was born in 01 March 1986. He spent his childhood and teenage days at Matlab Upazila in Chandpur. He completed his S.S.C. from Matlabgonj J.B. Pilot High School, Chandpur and his H.S.C. from Chittagong College. He was awarded Board Scholarships for his outstanding results in both S.S.C. and H.S.C. He completed his B.A. (Honors) in English from the Dept. of English, University of Dhaka.
Later he did his M.A. in English Literature also from the same University. He fosters very sound enthusiasm in reading, traveling and watching reality shows. He even loves reciting poems. He is a sports lover; likes to play cricket and football; likes to watch cricket, football and lawn tennis on TV. He also enjoys being with friends. He has an interest in creative writing as well.
He wants to build a successful career in teaching. As a student of literature, he likes to deal with different literary pieces. He has been working in IUBAT as a faculty since 18 January 2012.