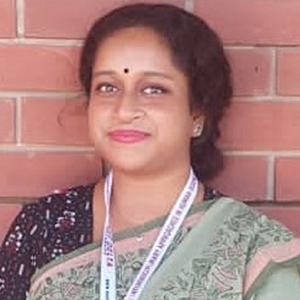 Jannatul Fardous
MA (BUP), BA Hons (BUP)
Lecturer
Room # 709 Ext # 105
E-mail: jannatul.eng@iubat.edu
Miss Jannatul Fardous began her teaching career in 2022 as a lecturer in IUBAT - International University of Business Agriculture and Technology, Dhaka. She has taught proficiency courses.
She loves to learn and explore new things. She often travels to countryside for research purpose.
She likes learning new language as a hobby.
Education
MA in English Literature & Cultural Studies
Bangladesh University of Professionals (BUP), Bangladesh
BA in English
Bangladesh University of Professionals (BUP), Bangladesh
Areas of Interest
Literary Theory: Post-structuralism, Feminism, Postcolonialism, Ecocriticism & Psychoanalysis
Cultural studies: Judith Butler's Gender Trouble, Zizek's Seven Veils of Fantasy, Susan Bordo's (Beauty)
Anthropology: Ecological Anthropology (Traditional Ecological Knowledge, Animism) and Cultural Anthropology (Kinship and Marriage politics)
Research & Publication
Conference Proceedings
International Conference Paper on "Animism & Ecological Knowledge of Anishinaabe Tribe: An Ecocritical Reading of Moon of the Crusted Snow by Waubgeshig Rice, Osmosis International Conference, East Delta University, Chittagong, 2022
conference Paper on "Alienation, Biophilia, and the Land Ethic: A Postcolonial Ecocritical Study of the Thirdspace in Ben Okri's The Famished Road," 8th DEH Conference, ULAB, 2022
Conference Paper on "Unspoken Domination of Patriarchy: Studying The Taming of the Shrew through Zizek," Research Project Contest, BUP, 2022
Conference paper on "Culture and Probable Identity Crises for Prioritizing the Foreign Tongue: A Study on Tertiary Level Students in Bangladesh", 7th DEH Conference, ULAB, 2021
Conference paper on "Gendered Space & Ecopolitics in the Women of Adi Tribe: A Literary Representation in Legends of Pensam by Mamang Dai", Mapping Gendered Spaces in Language Conference, Dhaka University, 2023
Thesis Works
Postgrad Thesis on Representation of The Traditional Ecological Knowledge of Adi & Mishmi Tribes: An Ecocritical Approach to Select Works of Mamang Dai, MA, BUP,2022
Undergrad Thesis on From Alienation to Eco Centric Healing: An Eco Psychological Study of The Little House in the Big Woods by Laura Ingalls Wilder and The Secret Garden by Frances Hodgson Burnett, BA, BUP, 2021
Other Achievement
French Language Diploma Course: Level A2 at Alliance Francaise (currently)
Courses Taught
ENG 101         Basic English Composition
ENG 102         English Comprehension and Speaking
ENG 203        Advanced English Composition
ENG 250        Public Speaking
ELP 002         English Language Proficiency
MA in English Literature & Cultural Studies
Bangladesh University of Professionals (BUP), Bangladesh
BA in English
Bangladesh University of Professionals (BUP), Bangladesh
Literary Theory: Post-structuralism, Feminism, Postcolonialism, Ecocriticism & Psychoanalysis
Cultural studies: Judith Butler's Gender Trouble, Zizek's Seven Veils of Fantasy, Susan Bordo's (Beauty)
Anthropology: Ecological Anthropology (Traditional Ecological Knowledge, Animism) and Cultural Anthropology (Kinship and Marriage politics)
Conference Proceedings
International Conference Paper on "Animism & Ecological Knowledge of Anishinaabe Tribe: An Ecocritical Reading of Moon of the Crusted Snow by Waubgeshig Rice, Osmosis International Conference, East Delta University, Chittagong, 2022
conference Paper on "Alienation, Biophilia, and the Land Ethic: A Postcolonial Ecocritical Study of the Thirdspace in Ben Okri's The Famished Road," 8th DEH Conference, ULAB, 2022
Conference Paper on "Unspoken Domination of Patriarchy: Studying The Taming of the Shrew through Zizek," Research Project Contest, BUP, 2022
Conference paper on "Culture and Probable Identity Crises for Prioritizing the Foreign Tongue: A Study on Tertiary Level Students in Bangladesh", 7th DEH Conference, ULAB, 2021
Conference paper on "Gendered Space & Ecopolitics in the Women of Adi Tribe: A Literary Representation in Legends of Pensam by Mamang Dai", Mapping Gendered Spaces in Language Conference, Dhaka University, 2023
Thesis Works
Postgrad Thesis on Representation of The Traditional Ecological Knowledge of Adi & Mishmi Tribes: An Ecocritical Approach to Select Works of Mamang Dai, MA, BUP,2022
Undergrad Thesis on From Alienation to Eco Centric Healing: An Eco Psychological Study of The Little House in the Big Woods by Laura Ingalls Wilder and The Secret Garden by Frances Hodgson Burnett, BA, BUP, 2021
French Language Diploma Course: Level A2 at Alliance Francaise (currently)
ENG 101         Basic English Composition
ENG 102         English Comprehension and Speaking
ENG 203        Advanced English Composition
ENG 250        Public Speaking
ELP 002         English Language Proficiency