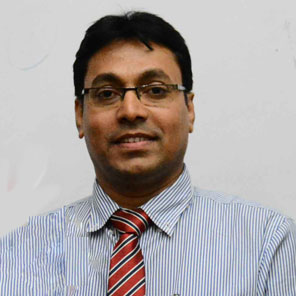 Dr Bijoy Lal Basu
Adviser and Adjunct Faculty
Ph.D.in Language, Discourse and Communication from King's College London
M.A. in Applied Linguistics & ELT from the University of Dhaka
Dr.Bijoy Lal Basu obtained his M.A. in Applied Linguistics & ELT from the University of Dhaka, then another M.A. in TESOL from the UCL Institution of Education, and his Ph.D.in Language, Discourse and Communication from King's College London.
His research interests include ELT curriculum development, educational policy studies, critical discourse analysis and language teacher education. He has published in peer-reviewed journals on topics such as TBLT, Spoken Grammar, linguistic imperialism, the global spread of the English language, and learner motivation. He has presented papers in many seminars and conferences, bothat home and abroad.
Dr. Basu began his teaching career in 2003 as a lecturer in English at East West University, Dhaka.He later joined the Department of English at the University of Dhaka. He has taught English language and literature courses at both undergraduate and post-graduate levels and conductedteacher training workshops for secondary and tertiary-level teachers.
Although he lives in Dhaka, he loves to visit the country-side as often as he can. He has travelled to England, Scotland, Wales, France, the Netherlands, Belgium, Turkey, the UAE and India.